Everyone has a fear. Everyone. If you were told by a person that they weren't afraid of anything, they are probably afraid of being judged.
My current fear is Twisty the Clown. I would have never thought myself to be afraid of clowns, but recently I have reconsidered. Twisty is not an ordinary clown. Twisty is a clown killer who stabs people to death with scissors. He is a fictional character (but seems so real) on the TV Show American Horror Story (which I am OBSESSED with). I don't know what it is about him that's so scary.
That's not even the scariest picture of him; he has a mask on.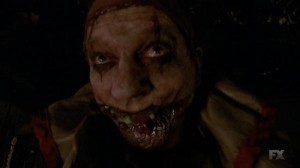 He has no jaw and not many teeth. Basically, Twisty goes around killing the people of Jupiter, Florida, or capturing children and adults and locking them in a abandoned bus in the woods.  I'm not planning on going to a circus anytime soon. In an upcoming episode, Twisty will go on Halloween, in broad daylight, to capture more children. On my way to my room, there is a window seat area right outside my room, so I am terrified that Twisty will come out to get me. It's the best show ever (10-11:30 Wednesday Nights on FX), but having Twisty on the show makes it hard to walk in the dark.